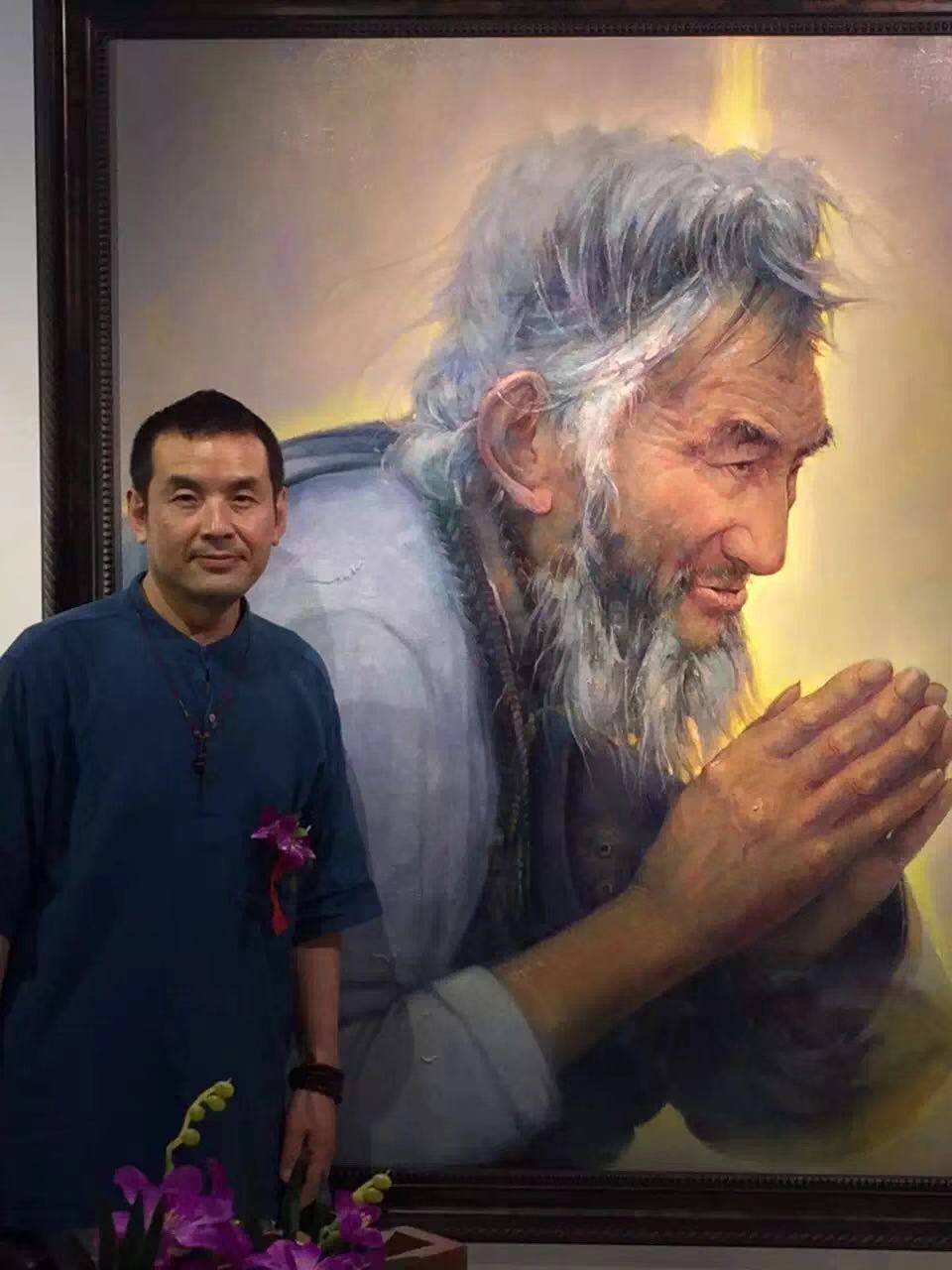 Xiao Bo
Xiao Bo, born in Suining, Sichuan in 1967, is an artist. He is a member of the Oil Painting Committee of the Chinese Academy Award, a member of the Chinese Art Artists Association, a member of the Beijing Oil Painting Society, a member of the Oil Painting Committee of the Beijing Academy of Calligraphy and Painting Arts, a consultant of the Hong Kong Artists Association, and a visiting professor of international education of the Oxford Academy of Art Works published in (Chinese Oil Painting) (Art Forum) (Chinese Oil Painting Collection) (Shanghai World Expo Special Cut) (Gallery) (Celebrities) (Beijing Television Weekly) (Sichuan Art Association) and other publications.
In November 2014, Mr. Chalup, Bolivian Ambassador to China, issued the Certificate of Cultural Messenger.
In 1987, oil paintings participated in the Sichuan Oil Painting Exhibition and won the Sichuan Central Oil Painting Breakthrough Award.
In 1989, oil paintings won the bronze prize in the National "Spark Cup" Calligraphy and Painting Competition.
In 1997, the oil painting "Red Fruit" was selected into the Chinese Still Life Oil Painting Exhibition (China Museum of Art) and compiled into the Collection of Chinese Still Life Oil Paintings.
In November 2007, he was invited to attend the 4th Collection Culture Exposition of China and won the Golden Arts Award for Contemporary Oil Paintings.
In January 2010, "Desire" was selected as the Asian Youth Realistic Oil Painting Nomination Exhibition and won the Excellent Award.
June, September 2010, was selected as China Art Works Exhibition of Shanghai World Expo (China Theme Pavilion)
In June 2011, he was invited to participate in the Contemporary Art Exhibition (Deconstruction and Style).
In September 2015, his works were included in the stamp album published by the American Philatelic Group commemorating the 37th anniversary of the establishment of diplomatic relations between China and the United States.
In October 2015, he participated in the "Invitation Exhibition of Chinese Oil Painters to Commemorate the Seventieth Anniversary of the Victory of the Anti-Japanese War".
In July 2016, he participated in the first National Oil Painting Exhibition (Qingzhu Cup) and won the Award of Excellence.
In August 2017, he was selected for the Outstanding Youth Art Works Exhibition of the Ministry of Culture (Beijing Yanhuang Art Museum).
In September 2017, he was invited to attend the Expert Seminar on Science and Art of Li Zhengdao, Shanghai Jiaotong University. His works (Quantum Star) were collected by Li Zhengdao Library.
October 2017 invited to the 25th Anniversary Art Exhibition of Xu Beihong Painting Academy
Xiao Bo works are delicate and vivid. The trend control of the works, or the integration of thinking consciousness, all show skilled artistic skills. In the field of art, we emphasize the protection of tradition, not exclusion of innovation. The era is advancing, calling for an endless spirit of innovation. (Professor Tao Hong, Director of Creation Center of China Academy of Art)
Xiao Bo figure oil painting absorbs the painting characteristics of classical oil painting in his creation. The characters in the painting are surrounded by an indescribable haze. The painting is like an angel in fairyland, clean and pure as a newborn. He uses cold tones to make the picture more calm and aesthetic. Without adding a trace of human impurities, pure to the point of obsession, stop pictures always involuntarily resonate with the pictures, seeking the comfort of the bottom of the heart. (Southwest University School of Fine Arts - Professor Qiu Zhenglun)
Xiao Bo works bring us not only visual impact, but also thinking space in ideological art and physical art. Every work can attract people to stop and watch. Although the painting expresses his ideal, we can also feel his inner peace of mind and unremitting pursuit of art. (Professor Wu Honge, School of Fine Arts, Renmin University of China)
肖波,1967年生于四川遂宁,艺术家,中国学院奖油画委员会委员,中国美术艺术家协会理事,北京油画学会,北京书画艺术研究院油画委员会委员,香港美术家协会顾问,牛津艺术学院国际教育客座教授,定居北京。作品发表于(中国油画)(美術论坛)(中国油画收藏)(上海世博会特刋)(画廊)(名流)(北京电视周刊)(四川美协)等刊物
2014年11月被玻利维亚驻华大使恰卢普先生颁发文化使者证书。
1987年油画作品参加四川油画大展,并荣获川中油画突破奖。
1989年油画作品荣获全国"火花杯"书画大赛铜奖。
1997年油画作品《红果》入选中国静物油画展,(中国美术馆)并编入《中国静物油画集》
2007年十一月应邀参加中国第四届收藏文化博览会当代油画作品展荣获(金艺奖)。
2010年1月作品《欲》入选亚洲艺术青年写实油画提名展,荣获优秀奖。
2010年9月作品《六月》入选上海世博会中国艺术作品展(中国主题馆)
2011年6月应邀参加(解构与风格)当代艺术展。
2015年9月作品入选美国集邮集团出版的纪念中美建交37周年邮票纪念册。
2015年10月参加"纪念抗战胜利七十周年中国油画名家邀请展"。
2016年7月参加首届(青竹杯)全国油画作品展,并获(优秀奖)奖。
2017年8月入选文化部中国优秀青年艺术作品成果展(北京炎黄艺术馆)。
2017年9月应邀出席上海交通大学李政道科学与艺术专家研讨会,作品(量子星空)被李政道图书馆收藏)
2017年十月特邀参加徐悲鸿画院成立25周年艺术大展
肖波的作品刻画细腻真切。作品的走势布控,还是思维意识的整合,都显示出娴熟的艺术功底。在艺术领域,我们强调守护传统,并非排斥创新,时代在前进,呼唤着永无止境的创新精神。(中国艺术研究院创作中心主任——陶宏教授)
肖波的人物油画在创作中吸取了古典油画的绘画特点,画中人物被包围在一抹难言的朦胧之中,画中犹如仙境中的天使,干净纯洁如初生一般。他用冷色调的处理方式,让画面显得更加的沉静而唯美。不添入一丝人间的杂质,纯净到让人痴迷的地步,驻足画面总是不由自主的与画面产生共鸣,寻求那心底的安慰。(西南大学美术学院——邱正伦教授)
肖波的作品给我们带来的不单单是视觉上的冲击,而是思想艺术与形体艺术上的思索空间,每幅作品都能引人驻足观看。画中虽表达的是他的理想,我们也能够感觉到他内心平和的心态,和对艺术不懈的追求。(中国人民大学美术学院——武洪娥教授)