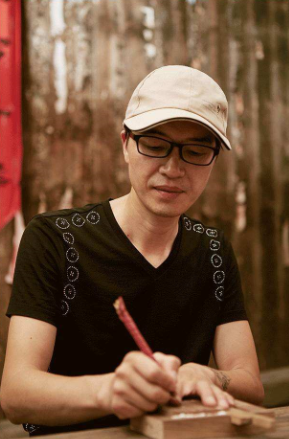 东源木活字产生并流布于浙江瑞安市西南部的平阳坑镇东源村  据当地《太原郡王氏宗谱》记载,王氏先祖原居于河南,五代末,王潮,王审知兄弟相继迁居福建,后有一支迁居福建安溪县,元初,隐居在福建省安溪县长泰里的王法懋开始编修宗谱,并以木活字印刷宗谱,从此王氏的"梓辑"(印刷编修)之艺问世。明正德一五O六至一五二一年间,王法懋的部分后裔由闽迁入浙江平阳浦尾,翔源一带。清乾隆元年一七三六年王应忠率子孙由平阳翔源迁入瑞安东源。王法懋创始的"梓辑"之艺由此在东源村"落地生根"。
东源木活字印刷术是编印宗谱紧密相联的。基本制作工序为:开工(采访)-誉清-(理稿)-检字-排版-校对-刷印-打圈-划支-填字-分谱-草订-切谱-装线-封面-装订。平时需做好取材、制字模、写字(字形相反)、刻字等基础工作。取上好棠梨木,经雨淋日晒自然干燥后制作字模,刻老宋体,制成一个个的木活字,以备排版用。
东源木活字印刷术是我国有幸保留下来且仍在使用的木活字印刷技艺,绝无仅有,堪称远古印刷术的活化石。自元朝初年至今有八百多年的历史,东源木活字印刷完整地再现了中国古代活字印刷的传统工艺,原汁原味,具有极高的历史人文价值。
二OO八年,东源村木活字印刷技术经国务院批准,被列入第二批国家级非遗项目,两年后,二O一O又被联合国教科文组织列入"急需保护的非物质文化遗产名录",成为我国为数不多的几个世界级非遗项目之一,由此引来了全世界的关注目光。
东源木活字印刷术第三十四代传人(王法万)浙江省瑞安市人,1973年出生于世界非物质文化遗产,木活字印刷术之乡瑞安市西南部的平阳坑镇东源村。
木活字印刷术全国连锁研学旅游体验馆创始人
木活字雕刻师,谱师
木活字雕刻指导老师
工艺美术大师
温州市工艺美术协会理事
瑞安市工艺美术协会理事
王法万大师的作品经联合国世界非物质文化遗产保护基金会,美国集邮集团出版发行邮票,在美国、法国、荷兰、英国等国家发行。
作品曾多次获得金奖,银奖,收藏证书,创造之星奖等
一九九零年随父学习木活字雕刻和印刷术技艺,学艺十年。为了能够把木活字雕刻技艺传承下来,传承祖业,发扬光大,创新木活字作品,兢兢业业付出了二十几年的心血。为了进一步推动木活字文化产业发展,对非遗资产产业文化为主营范围的文化企业,于2017年创办了木活字印刷术全国连锁研学旅游体验馆。
让更多的人知道中国东源还有这样一种古老的技艺,一直在传承,民间还有这样的一种活化石存在。
电话微信:18066267573
邮 箱:331341156@QQ.com
According to the local "Wang's genealogy of Taiyuan County" records, Wang's ancestors originally lived in Henan Province. At the end of the Five Dynasties, Wang Chao and Wang Shenzhi brothers moved to Fujian, and then one branch moved to Anxi County, Fujian Province. In the early Yuan Dynasty, Wang Famao, who lived in seclusion in Changtaili, Anxi County, Fujian Province, began compiling the genealogy of Wang Famao's ancestors genealogy. Brushing genealogy, Wang's "Zi Ji" (printing edition) art came out. From 15O6 to 1521 in Ming Zhengde, some descendants of Wang Famao moved from Fujian to Puwei and Xiangyuan in Pingyang, Zhejiang Province. Wang Yingzhong led his descendants from Pingyang Xiangyuan to Ruian Dongyuan in 1736, the first year of Qianlong reign of the Qing Dynasty. Wang Famao's "Ziji" art took root in Dongyuan Village.
Dongyuan wood movable type printing is closely related to the compilation and printing of genealogy. The basic production process is: start-up (interview) - Yuqing - (manuscript processing) - proofreading - typesetting - proofreading - brushing - circle - crossing - filling - Score - sketching - cut - line - Cover - binding. Usually, we need to do a good job in the basic work of material acquisition, typesetting, writing (opposite font shape), engraving and so on. Take a good tangerine pear wood, after rain, sun and natural drying, make typefaces, engrave the old Song style, and make wooden movable characters one by one for typesetting.
Dongyuan Wood Movable Type Printing is a kind of living fossil of ancient printing in China, which has the honor to preserve and is still in use. It has a history of more than 800 years since the beginning of the Yuan Dynasty. Dongyuan wood movable-type printing completely reproduces the traditional technology of ancient movable-type printing in China, which is original and of great historical and humanistic value.
In 2008, Dongyuan Village Wood Movable Type Printing Technology was approved by the State Council and listed in the second batch of national non-heritage projects. Two years later, it was listed in the "list of intangible cultural heritage urgently in need of protection" by UNESCO, and became one of the few world-class non-heritage projects in China, which attracted worldwide attention.
The 34th generation of Dongyuan movable-type printing (Wang Fawan) was born in 1973 in Ruian City, Zhejiang Province. He was born in Dongyuan Village, Pingyangkeng Town, southwest of Ruian City, a world intangible cultural heritage.
Founder of National Chain Research and Tourism Experience Museum of Wood Movable Type Printing
Wood Sculptor, Musician
Wood Word Carving Instructor
Master of Arts and Crafts
Director of Wenzhou Arts and Crafts Association
Director of Ruian Arts and Crafts Association
Master Wang Fawan's works are published by the United Nations World Intangible Cultural Heritage Conservation Foundation and the United States Philatelic Group. They are published in the United States, France, the Netherlands and the United Kingdom.
His works have won many gold, silver, collection certificates, Star of Creation awards and so on.
In 1990, he studied woodworking and printing with his father for ten years. In order to be able to inherit the wood movable type carving skills, inherit ancestors, carry forward and innovate wood movable type works, conscientiously and painstakingly paid more than 20 years of effort. In order to further promote the development of wooden movable type culture industry, the National Chain Research and Tourism Experience Museum of Wood movable type printing was established in 2017 for cultural enterprises with non-legacy property industry culture as their main business scope.
Let more people know that there is such an ancient skill in Dongyuan, China, which has been handed down all the time, and there is such a living fossil among the people.
Telephone Wechat: 18066267573
E-mail: 331341156@QQ.com