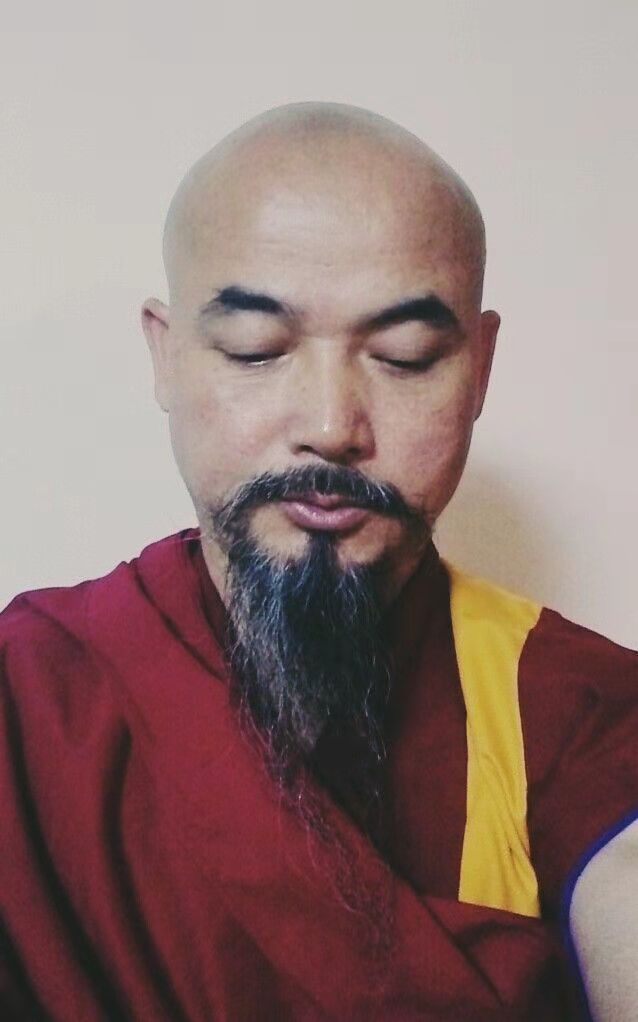 Shan Dan

中央美院教授,著名美术史论家~邵大箴题字
Professor of Central Academy of Fine Arts, Famous Art History Theorist, Inscription of Shao Dazhu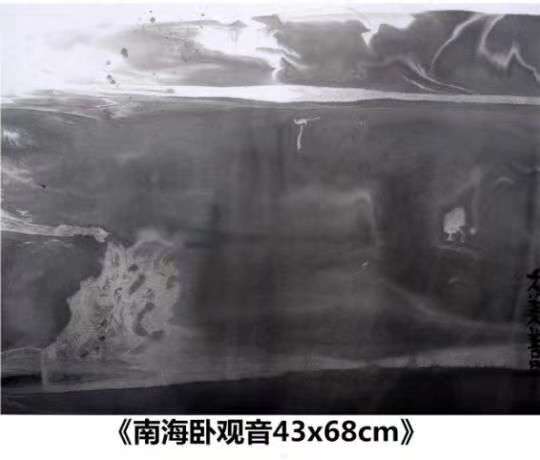 《The South China Sea Guanyin》

《Asked the West》

善旦,工
书法,通诗韵,精绘事,以抽象水墨绝世。
首先要说我不是理论家,我只是以一个画者读画的角度去体会一幅作品的艺术感觉。读善旦的作品很自在,没有限定的边界,他给观者一个幻境,每个人都能从中看出自己的一个世界。他用抽象的表现形式去强化一种意象,这种意象是千双眼睛千种状态,这何尝不是一种佛性?
初识善旦是在中国人民大学艺术中心,当时他师从王超先生。印象中他比较腼腆,言语不多但心性善良。后来听说他去了青海,剃度皈依佛门,法号善旦。在浮躁的现实中他找到了那么一扇门,或许那是他向往已久去安置灵魂的圣地,从此佛门多了一个心怀水墨精神的善旦。画由心生,透过一件艺术作品可以看到作者的胸怀及思想境界。善旦的水墨抽象作品正是他的内心世界的一次次独白,他的世界是纯善的,他以小我的境界去诠释天道大美,这种思想高度是具有佛性的。
中国文化一脉相承,中国画讲究师承关系。远师古人、近师能者;但更重要的是要像唐代张璪所说:外师造化、中得心源。艺术是有独特性的,不可复制不能替代,师承能更直观的了解艺术门类和表现形式,为个人的艺术成长找到一个根源。但是我认为真正的艺术家绝不是仅限于继承某种技艺,而是在传统文化的积淀中成长出一种新的艺术形式。这种形式是作者博采众长而后加之独有的修养所成。善旦师从王超先生,王超的山水画受业于李可染先生,李可染是现代山水画大家又曾受教于山水画一代宗师黄宾虹先生,在这种师承关系里,善旦对山水画的传承会有深刻的理解和认知,同时又对山水画的发展有他自己的主观追求。
善旦的水墨作品是包罗万象的,不拘泥于线与面的分割,从布局上乍一看犹如盘古开天地的混沌一体,细处着眼却又是丰富多变的,抽象但不空洞。从表现形式上来说随性而不失章法,他能通过感官使人的脑洞大开,每一个观者都能凭借一纸空间游弋于自我的心海。这就是善旦的艺术特性,他的作品包容、博爱,有天工开物的壮观,有鬼斧神工的奇妙,更有能度化万物的形式美感。
毋庸置疑,是心路历程和纯善的思想碰撞出善旦的佛性。我想,也正是因为善旦的佛性,成就了他的水墨意象。
文章作者:若闲散人
Shan Dan,
he familiar with the main claborate-style painting, calligraphy, poetry, painting, good at abstract ink painting beauty.
First of all, I'm not a theorist. I just feel the artistic feeling of a work from the perspective of a painter. Reading Shandan's works is very comfortable, there is no boundaries, he gives the viewer a fantasy, from which everyone can see their own world. He uses abstract forms of expression to strengthen an image, which is thousands of eyes and thousands of states. Is it not a Buddha nature?
The first acquaintance with Shandan was at the Art Center of Renmin University of China, where he was taught by Mr. Wang Chao. In the impression, he was shy, with few words but a good heart. Later, I heard that he went to Qinghai and converted to Buddhism. His name was Shandan. In the impetuous reality, he found such a door. Perhaps it was the holy place where he longed to settle his soul for a long time. From then on, Buddha had a good deed with ink spirit. Painting is born from the heart. Through an artistic work, we can see the author's mind and ideological realm. Shandan's abstract works of ink and wash are the monologues of his inner world. His world is pure. He interprets the beauty of heaven with the realm of ego, which is highly Buddhist.
Chinese culture is inherited in one continuous line, and Chinese painting stresses the relationship between teachers and inheritors. Ancient teachers, near teachers; but more importantly, as Zhang Bi said in the Tang Dynasty: outside teachers, learn from the source. Art is unique and can not be replaced by duplication. Teachers can understand art categories and manifestations more intuitively and find a root for personal artistic growth. But I think real artists are not limited to inheriting certain skills, but grow into a new art form in the accumulation of traditional culture. This kind of form is formed by the author's unique accomplishment, which is based on the author's extensive learning of many advantages. Shandan was taught by Mr. Wang Chao, Wang Chao's landscape painting by Mr. Li Keran. Li Keran is a master of modern landscape painting and a master of landscape painting by Mr. Huang Binhong. In this teacher-inheritance relationship, Shandan has a profound understanding and understanding of the inheritance of landscape painting, and at the same time, he has his own subjective pursuit of the development of landscape painting.
Shandan's ink and wash works are all-inclusive, not rigid to the line and surface division, from the layout at first glance like a chaotic unity of Pangu Kaitian, the details are rich and changeable, abstract but not empty. From the form of expression, he can open his brain through his senses. Every viewer can swim in his own mind by means of a piece of space. This is Shandan's artistic characteristics. His works are tolerant, fraternal, magnificent with artifical creation, magical with ghosts and axes, and have a more possibly formal aesthetic sense of all things.
It is undoubtedly the process of the mind and the pure thought that collides with the Buddha nature of the good Dan. I think it is also because of the Buddha nature of Shandan that he achieved his ink image.
The author: Ruo Xiansanren