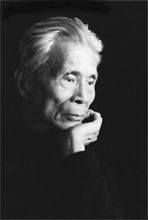 In the 50~70 era, Wu Guanzhong devoted himself to the creation of landscape oil painting and explored the nationalization of oil painting.
Cable. He tried to integrate the intuitive vividness of European oil paintings in describing nature, the richness and delicacy of oil paintings with Chinese traditional artistic spirit and aesthetic ideal.
Since 70s, Wu Guanzhong has been working on Chinese painting. He tried to use the traditional Chinese material tools to express the modern spirit and explore the innovation of Chinese painting.